Let's get one thing out of the way: we're going into 2023 on a high-note. We've closed deals with some of the most respected companies in both the UK and US, we've hired in the double-digits, expanded into New York, and revenue is growing steadily.
But we aren't hanging up our football boots just yet. Yes, we can take some time to celebrate our wins, but we're all hands on deck for 2023 planning. This year has been a strong year overall for us at incident.io HQ, with forecasting showing all the right signs.
But if you took a peek back at our earliest days, you wouldn't have guessed that we'd be where we are now — I certainly didn't think we'd be here.
From the days of Pete, our co-founder and CTO, sending me direct messages on LinkedIn to pitch this crazy incident management idea, to our first office (a humble one), to now, expanding over to New York and working with some of the most respected companies around. It's been a whirlwind of a journey.
And that's not to imply that building a business isn't always a challenge. It is. But the way we got here was a bit…unorthodox.
The early days of incident.io
We knew that we wanted to start a company based on some of the frustrations we were having with our existing incident management solutions. But we figured that, whatever we did end up creating, would be a side project, especially since we all had full time jobs at the time.
But as we became more invested in building a legitimate product, we quickly realized that this would be way more demanding than we thought. Then it became a question of time.
How do we cram more hours into this day?
For months our schedules looked something like this: 5:30 AM alarm, coffee, work on incident.io—bleary eyed, groggy but determined.
After much back-and-forth, refined code, late nights and early mornings, we had the first iteration of our product. Then came our first demo with GoCardless. Put mildly, it didn't go as smoothly as we would've liked, but we managed to get through it. Fast forward to today and GoCardless is one of our many happy customers.
But we knew that if we started signing customers, we wouldn't be able to scale the company with just the three of us and no dedicated office space. We needed to sell people on the idea of joining a very early stage startup with no money in the bank and no office. Easy, right?
It's time for an office….right?
Despite the fact that we had a fully built out, but early, MVP, getting an office space felt like one thing that would make everything feel real. So after many virtual tours, we landed on a space that used to be an old fire station, fittingly enough. Four white walls and a few desks. It was humble but we had our first office space.
Mind you, it was a big investment for us at the point that we were in. At that point we had made about 3000 pounds of revenue and the office was around a thousand pounds a month. And with about three months of runway left we wondered, was this a good idea?
But we kept the space. We realized that the reason we got an office in the first place was because we truly value the impact and idea of in-person collaboration. So we spruced up the space a bit, a few plants here and there, added some vinyl wallpaper and suddenly we had a space that was not only homely, it encouraged brainstorming.
Now all we needed were some more people to do all this brainstorming…
…now let's bring on some people
Our decision to bring on our first hires was a big leap of faith and a huge exercise in trust. We knew that now, we'd be responsible for the livelihoods of whoever we brought on. But it wasn't exactly an easy sell, as you may have guessed.
Pete reached out to two wonderful people he'd worked with previously, Lisa and Lawrence, to make the big pitch to join us.
The pitch went something like this: 'this will almost certainly fail or this will almost certainly go horribly wrong at some point.' We were basically saying 'I think you should quit your job and come join us on this crazy endeavor that might leave you jobless in the near future.' Good pitch, right?
Despite this, both of them were unfazed.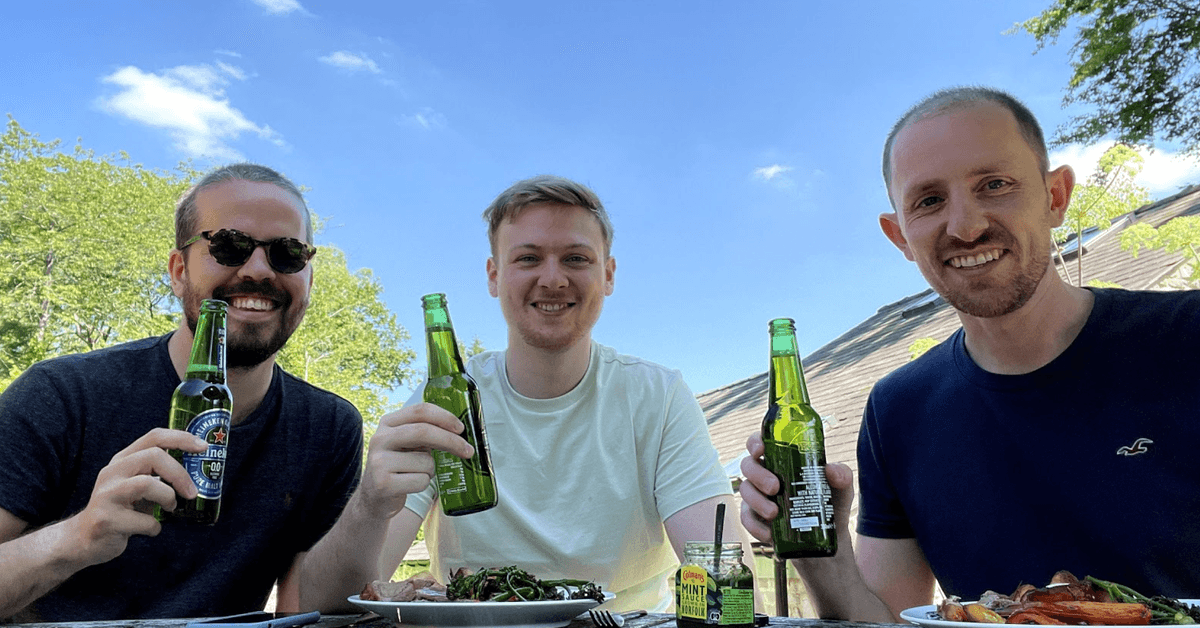 It's a big ask and probably the worst pitch of all time. And it's one that most people would reasonably turn down. But thankfully they agreed and they're with us to this day.
That was fun… so what's next for us?
After reading the condensed version of our history above, you're probably saying to yourself, "it's a miracle they made it this far." And I'd probably agree with you. I like to say that our origin story makes us sound like the most unlikely superhero team of all-time.
But we banded together and made the vision happen, with a lot of hard work, late nights up, and some big bets from some amazing people.
So now what? We've been around for about a year and a half now and have grown to a staff of close to 40 people working across London and New York. We've raised three rounds of funding, totalling close to $40 million, and we've seen interest from some amazing companies that are looking for a dedicated incident management platform.
But looking ahead, our focus remains clear: shifting the mentality that incident management is an "engineering thing," and democratizing it for every department.
How do we do that?
By iterating on our product and making it simple to use and as automated as possible. We're proud of all the integrations we have with some of the most popular tools around such as Pagerduty, Linear, Jira and others.
But we're also extremely excited about our other integrations with less engineering-focused tools such as Notion, Asana, and Zendesk.
Again, in many ways, our work is just beginning. As we look ahead to 2023, we're laser focused on our journey to building an incredible incident management platform that takes the complex, confusing, time-consuming processes out of this much-needed tech stack tool—for everyone.
And most importantly of all, thank you to all of our wonderful customers. All of this would be impossible without your support and trust in us. We do this for you!
Happy holidays and we'll see you next year.